Bill E. Balloney - The Man (The Puppet)
Some Quick Balloney Stats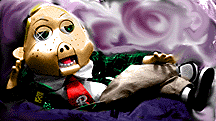 BIRTH DATE: about a quarter of.
BIRTHPLACE: Outside of PeeWee's Playhouse
HEIGHT: 1'1"
CHEST: 7
WAIST: 9
HIPS: 7
WEIGHT: 10oz
FAVORITE WORD: ZYZZYBALUBAH
TURN-ONS: - TV, Wing tip shoes, Barbie
TURN OFFS: - People who make him look dumb, acetone, reading
AMBITIONS: To make Barbi mine, be king of plastic people and get a satellite dish.
BILLY'S SECRET: If you can make me giggle, you're sure to win my heart.
THREE RULES TO LIVE BY: Take more than you give, be kind to bumblebees, wash your hands after you pee.
MY NEW YEAR RESOLUTIONS: Watch TV every day and keep my hand in the cookie jar.