Slices of Balloney Wisdom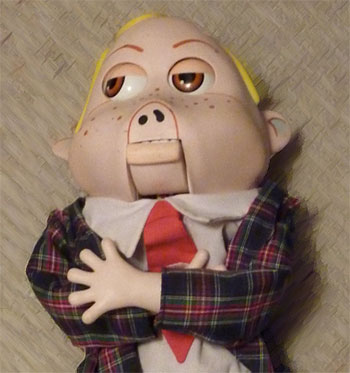 Like Mayonnase in an egg sandwich, Mr. Balloney has much wisdom to spread around.
Here is just some of Mr. Balloney's delicate wisdom:
"It's better to lead than to weed."
"Even a broken clock is right twice a day." (On people who are "Know-it-alls")
"I think therefore I am, I am, therefore I am online."
"Life is hard - but maybe not as hard as a Macadamia nut shell."
"Don't swallow anything larger than your head."
"The saying, "Buy High and Sell Low" doesn't mean when you're under the influence."
"Only wash with mild soap and water - acetone hurts."
"There ARE things that are free in life:"

"Bad advice from relatives"
"Bad advice from friends"
"Bad advice"
"Used bubblegum"

"I'm NOT and ANIMAL! I am a PUPPET!"
"Always put the topmost lid up on the toilet before you use it."
"Duck, when you spit into the wind."