Welcome to the World of Billy Balloney
Bill E. Balloney was a fairly obscure character (puppet) on the Pee-Wee's Playhouse television show. Please don't confuse Mr. Balloney with Randy - big mistake. Billy would be upset at such an error. I've done exhaustive research on Mr. Balloney's life. You'll find, as I have, he is one of the most influential and fascinating puppets in America.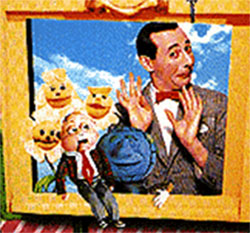 The Pee-Wee's Playhouse shows have been released on DVD. This site is in no way affiliated with MGM/UA, Mr. Paul Reubens or Herman World, Inc.. If you would like to purchase the DVD set and see Billy Balloney in all his polyethylene glory (See the Volume 1 video "Open House"), you can get more information from the official Pee Wee Herman site at www.peewee.com or you can go straight to Amazon.com for the 5 seasons and the Christmas special.
You may also want: